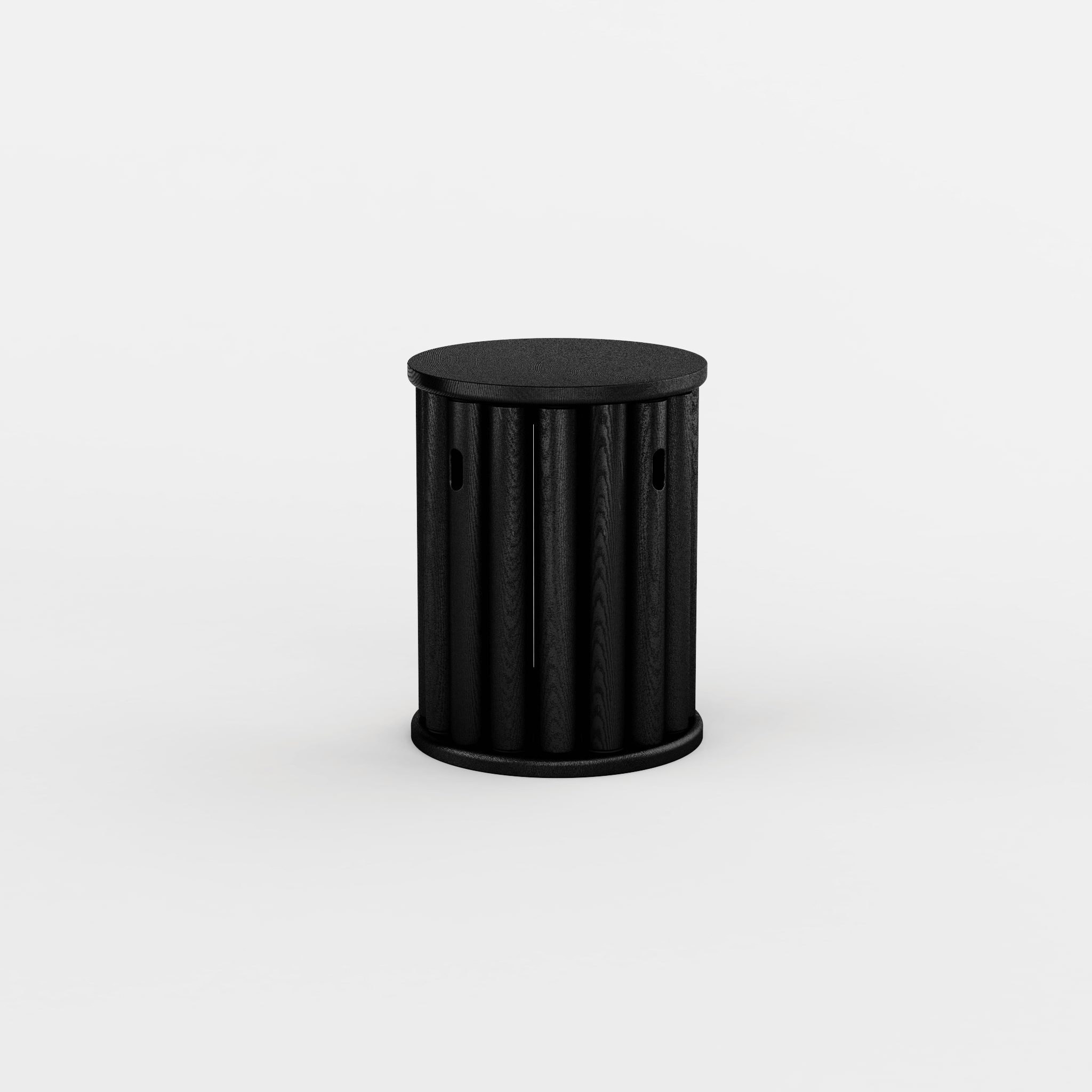 Quartet - Scalloped
Black
Estimated December 18th ship date (+2-5 days UPS Ground shipping)
The Quartet is a side table that turns into four stools. This space saving design and multi-functional piece was designed to encourage hanging out with friends at home. 

Award-winning design
Space-saving and multi-functional
Contract grade 
Static Load capacity of 300 lbs
FSC ash hardwood
Stacked: 14.74" (diam) x 19" (h)
Outer stools: 14.75" (diam) x 18" (h)
Inner stools: 14" (diam) x 17" (h)
For indoor use only. The Quartet is made with FSC certified hardwood, and as such the variations in colors and textures from the grain and knots are expected and part of its character. The wood is finished with a water-based coating.

You can prevent stains by avoiding hot items, liquids, and direct sunlight on the Quartet. Use coasters and mats when putting beverages, food, and plants on the stools. Also be careful when placing metal objects, including laptops with sharp edges, which can scratch and dent the surface.
$30 shipping per Quartet.

Returns within 14 days. A 12% restocking fee and actual return shipping costs will be deducted from the refunds.
FSC®-certified hardwood (C041262)
Water-based wood finish
Carbon Neutralized with Offsets
Trees and mangroves planted for each unit produced
Product Story
Transforming the home into a social space
How might we create more social engagement and authentic friendships in this day and age?

That was the question that initiated the Quartet project. Having lived in cities most of our lives, we understand the space constraints of living in apartments, and the desire for true connections.

In fact, urban loneliness is a growing mental health pandemic that affects people of all ages, reaching its height during COVID. The solution is friends, and we think the best environment to form authentic friendships is the home.

We hope that the Quartet will enable people to turn their homes into a social space, fostering friendships and good memories to come.
Awards
Thoughtfully designed Details
Felt Glides to protect the floor
Flange protects fingers when stacking
Handles for easy carrying
Feet protect the floor and bottom surface